Mary Whyte Store
More Than a Likeness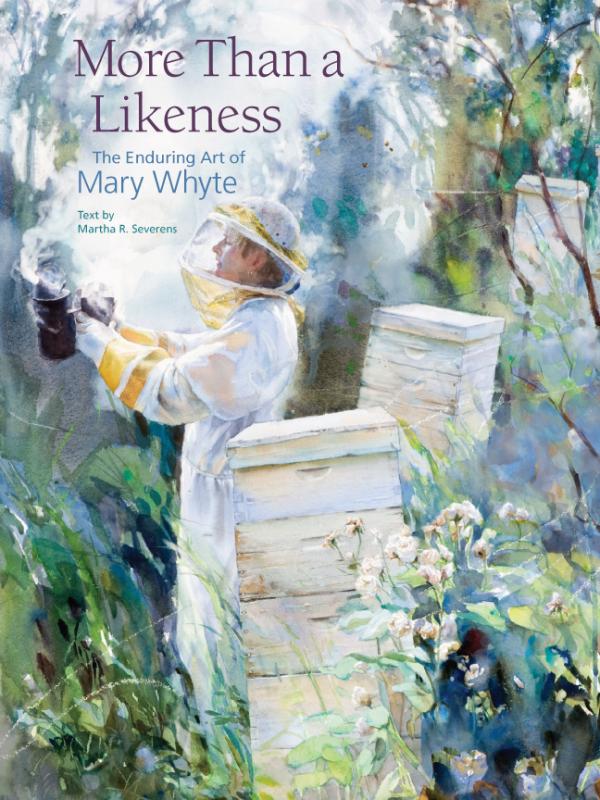 NEW BOOK RELEASE!
The University of South Carolina Press releases a 248-page biography on Mary Whyte titled, More Than a Likeness: The Enduring Art of Mary Whyte. Written by Martha R. Severens, esteemed author and former curator of the Greenville County Museum of Art. The biography features Whyte's works spanning 50 years, from childhood to present day. A stunning art book featuring over 200 images of Mary Whyte's paintings and drawings. Art historian Martha Severens clearly and eloquently illustrates how Whyte's art has been shaped and how the artist forged her own place in the world today.
Published by The University of South Carolina Press
Author Martha R. Severens
248-pages
12 x 9 inches
Over 200 images
AUTOGRAPHED HARDCOVER BOOK $75 ~ COLLECTOR'S EDITION INCLUDES ORIGINAL DRAWING $1,400
$75
Collector's Edition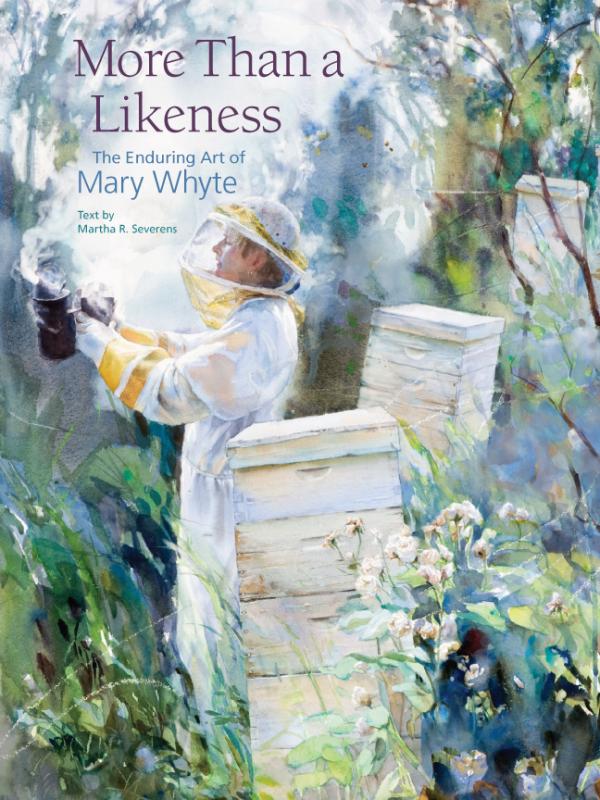 WITH ORIGINAL DRAWING! 100 Collector's Editions of the new biography book, More Than a Likeness, include an original drawing or ink sketch by Mary Whyte. The original drawing is sealed in a handmade, silk clamshell box made in the USA by artisan Cathy Durso. Each Collector's Edition is signed and numbered. ONLY 100 AVAILABLE!
You may choose the original drawing for your Collector's Edition! Click the Drawing button on the home page. Collector's Edition $1,400
$1400
You may also choose your original drawing in person at Coleman Fine art, 79 Church Street, Charleston, SC. 843.853.7000
Down Bohicket Road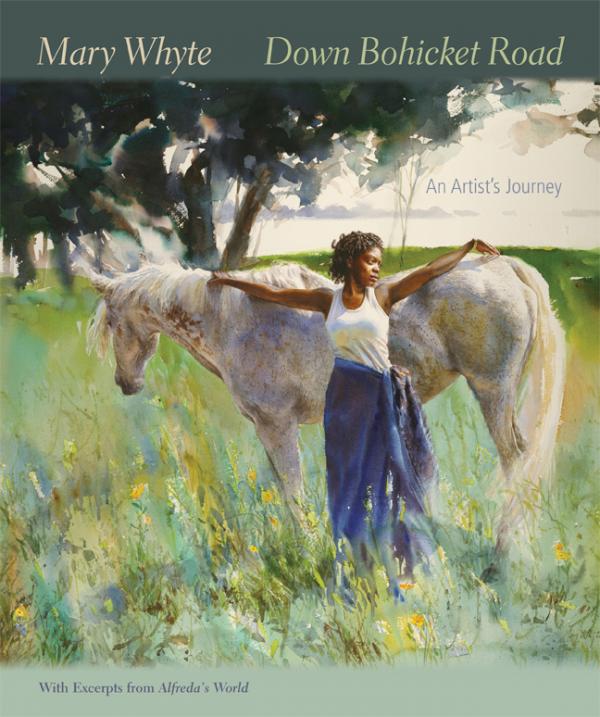 The 152-page book written by Mary Whyte and published by University of South Carolina Press includes two decades' worth of Whyte's watercolors depicting a select group of Gullah women of Johns Island, South Carolina, and their stories. Descendants of lowcountry slaves, these longtime residents of the island influenced Whyte's life and art in astonishing and unexpected ways. Whyte has devoted twenty years to painting the Gullah culture and its remarkable women, resulting in a series of watercolors that would change her life and artistic focus. For anyone who has loved the South, Down Bohicket Road is a rich, visual tribute to friendship that crosses cultural and racial borders and reaches straight to the heart. Get your autographed copy today!
$49.95
Working South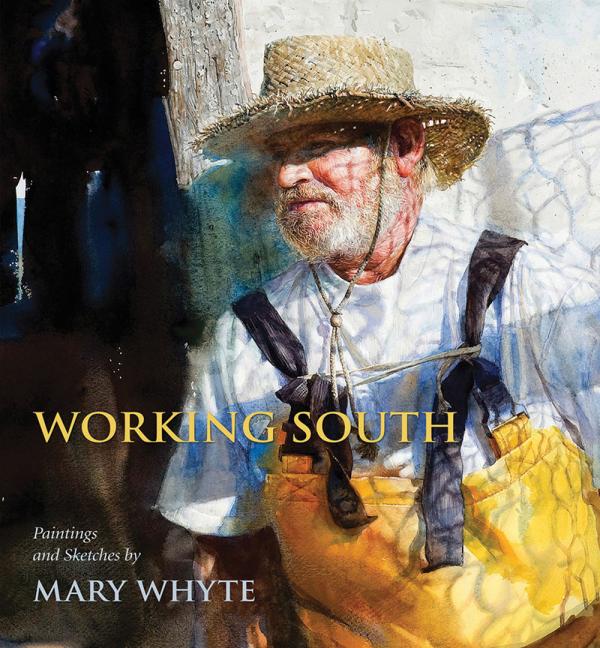 FEATURED ON CBS SUNDAY MORNING
In Working South, renowned watercolorist Mary Whyte captures in exquisite detail the essence of vanishing blue-collar professions from across ten states in the American South with sensitivity and reverence for her subjects. From the textile mill worker and tobacco farmer to the sponge diver and elevator operator, Whyte has sought out some of the last remnants of rural and industrial workforces declining or altogether lost through changes in our economy, environment, technology, and fashion. She shows us a shoeshine man, a hat maker, an oysterman, a shrimper, a ferryman, a funeral band, and others to document that these workers existed and in a bygone era were once ubiquitous across the region. Get your autographed copy today!
$49.95
Painting Portraits and Figures in Watercolor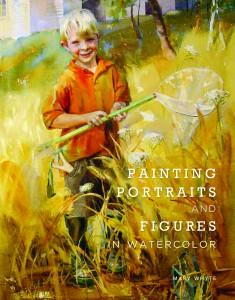 Using clear and concise language and in-depth, step-by-step demonstrations, author and renowned artist Mary Whyte guides beginning and intermediate watercolorists through the entire painting process, from selecting materials to fundamental techniques to working with models. Going beyond the practical application of techniques, Whyte helps new artists learn to capture not just the mode's physical likeness but their unique personality and spirit. Read the 5 star review
$24.99
To purchase an autographed or personalized copy, please contact Coleman Fine Art at 843.853.7000 or email: info@colemanfineart.com
ALFREDA'S WORLD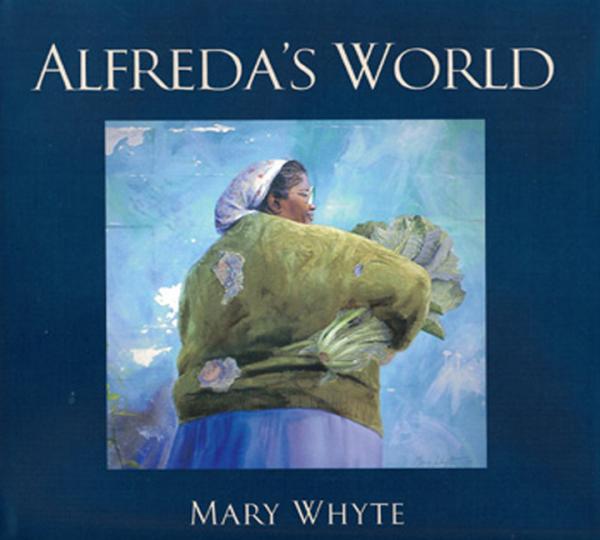 2005, Paper-back
(Only a Few Still Available – Out of Print)
Artist Mary Whyte moved with her husband to a small South Carolina barrier island ten years ago, and quite by accident met a group of senior citizens who were making quilts in a small abandoned church. Longtime residents of Johns Island and descendants of slaves, this extraordinary group of African American women welcomed Whyte to their community and changed her life and paintings in astonishing and unexpected ways.
Chronicled in dialogue and images are the Gullah way of life and the evolution of an incredible friendship between the artist and Alfreda LaBoard, who became the subject of many of Whyte's paintings. Whyte uses the watercolor medium to produce rich dark tones and textures. Her combination of tightly controlled brush strokes and loose broad sweeps of washes, coupled with contrasts of light and dark, produce a level of intensity not usually associated with watercolor.
$100
Mastering Watercolor Portraiture by Mary Whyte DVD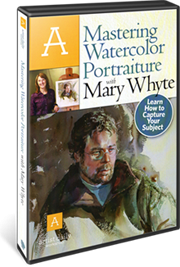 Mary Whyte takes you inside her studio to paint a watercolor portrait from start to finish. You will see firsthand the relationship Mary has with her models, why she chooses to paint portraits, why watercolor is the perfect medium, and how she creates works with emotions that capture the essence she is trying to convey.
$29.95
Watercolor Portraits of the South by Mary Whyte DVD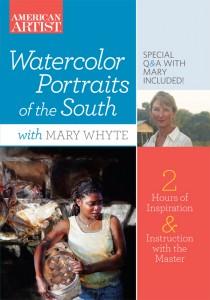 New DVD released by Mary Whyte order yours today!
Two hours of inspiration and instruction! See more of Mary Whyte's painting process than ever before. Learn how to capture the character and presence of a model from the foundational composition to the final details that define a great work of art. Reach a new level in your own work by incorporating Mary's strategies as she reveals her answers to critical questions from artists around the world.
$39.95
Mary Whyte Squirrel Cat's Tongue Wash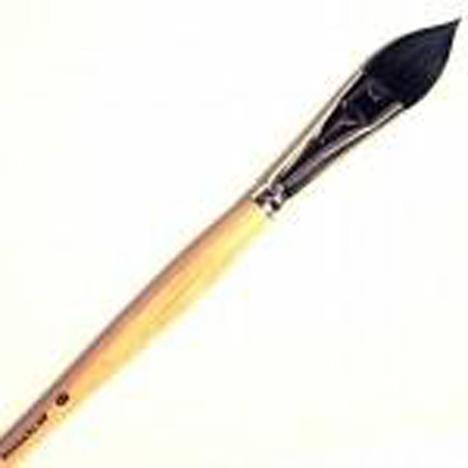 All hair used in daVinci natural hair watercolor brushes is dressed and prepared in the daVinci factory by skilled artisans who turn over the prepared hair to experienced brushmakers for hand shaping. In this way, quality standards are assured from raw material to finished brush. Russian Blue Squirrel hair is of the highest quality and holds a large volume of water which makes it excellent for mop and wash techniques. It is the softest, finest hair and holds more water than any other fiber. These are the finest brushes I have ever used. Their control and durability make them the only brushes a serious watercolorist will ever need. Mary Whyte Series 801: Russian Blue Squirrel Cats' Tongue Wash. The combination of the flattened ferrule and oval tapering of this brush lays down washes if used flat with the belly on the paper, yet its tip will point softly and its side will hold a soft edge. Size 6
$ 59.4
Mary Whyte Kolinsky Round Brush Size 8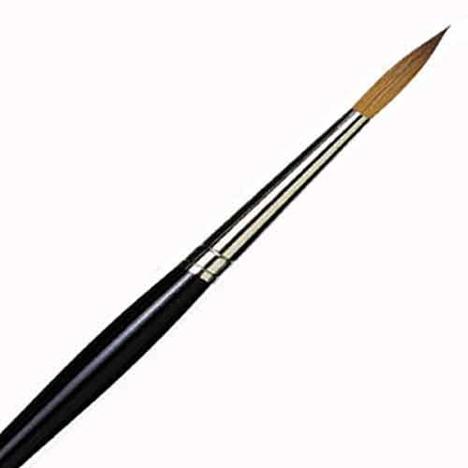 Mary Whyte's kolinsky brush is currently unavailable for purchase in the states. Mary recommends the Isabey 6227Z kolinsky brush in size 8 or larger, which is available for purchase through Artxpress and other suppliers.

Mary Whyte Red Steel Tripod Easel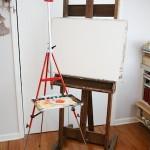 High quality steel easels with an excellent finish and sturdy fittings. Our most durable steel easel. For use indoors and out, Richeson's portable steel easels give you the best performance possible. Lightweight aluminum easels may blow over in the wind but the extra weight of steel keeps these easels rock steady. Adjusts to a horizontal position for watercolor and pastel work. Maximum canvas height: 29" Horizontal table height: 31"-54" Extended easel height: 80"
$ 79.46
Mary Whyte: Essential Lessons in Watercolor Painting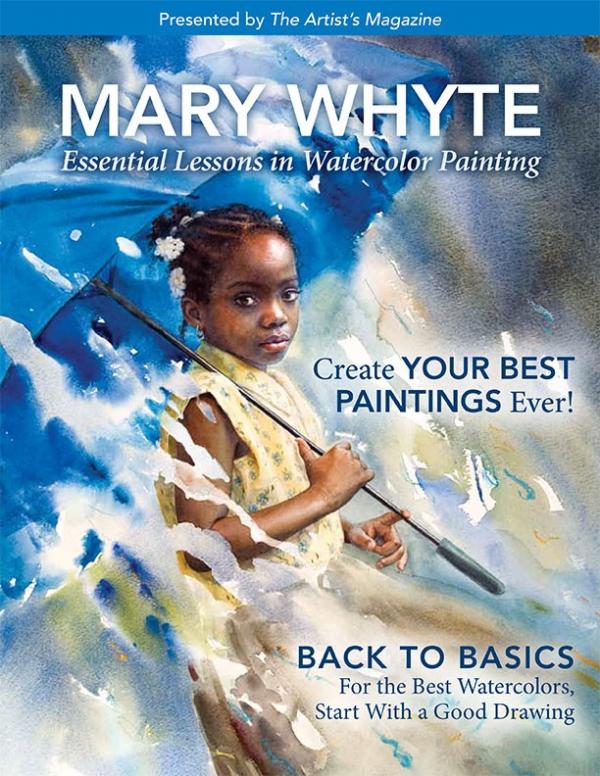 Download this eMagazine, presented by The Artist's Magazine, for key lessons from renowned watercolor artist Mary Whyte on creating dynamic works of art. Learn tips on how to take your work to the next level and how to create a foundation on which to build stand-out watercolors.
$ 2.99